Premier Theater At Foxwoods | Mashantucket, Connecticut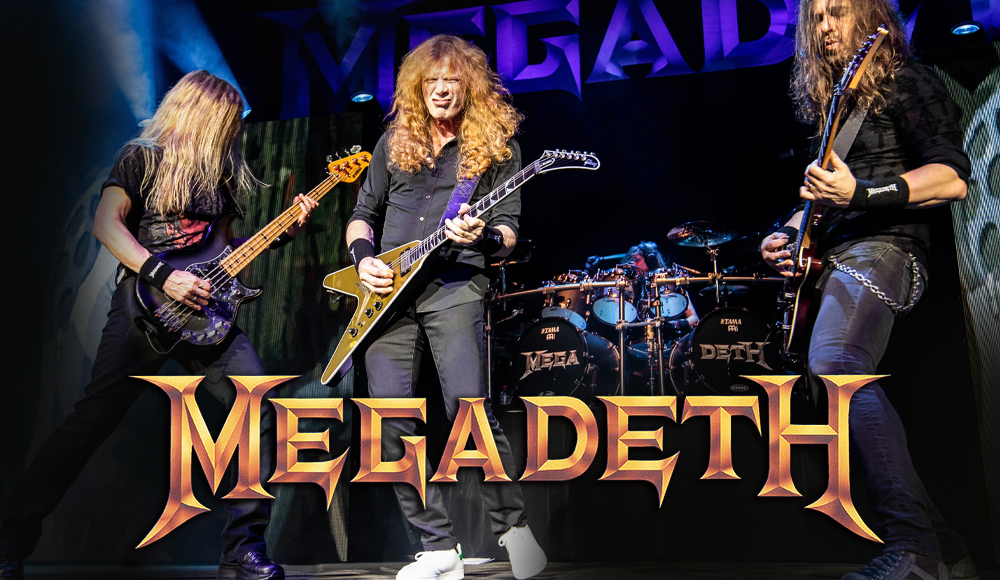 On an expedition to crush the world, Thrash kings Megadeath just added a string of new tour dates this fall. Slamming its electric guitars and rockin' it all out to "The Sick, the Dying... and the Dead!", it's time to brace yourselves as they bring skull-rattling riffs to the stage at MGM Grand Theater at Foxwoods on Saturday, September 16th this fall. Straight from its groundbreaking records "Rust in Peace", "Countdown to Extinction", and "Youthanasia", down to its newest banger "The Sick, the Dying... and the Dead!", the band is definitely serving electrifying experiences through decades of head-banging hits. Led by Dave Mustaine since 1983, Megadeath continues to conquer Thrash Metal and top the charts with its newest LP hitting #2 on the Billboard 200. Amidst global movements of glitter pop, the band testifies that metal isn't dying anytime soon. As Megadeath continues to kill the scene, everyone's up for a slew of rockin' nights and hits to come. So, witness Megadeath as it crushes the world on tour by booking your tickets now!
Dating back to 1983 led by its iconic frontman Dave Mustaine, the band soon became one of the world's highly-regarded pioneers of Thrash Metal for its hard-hitting roster of records. With a history spanning decades of hits, awards, lineup changes, and rockin' tours, Megadeath continues to conquer any sign of peace as its newest LP "The Sick, the Dying... and the Dead!" hit #2 on the US Billboard 200.
Prior to its massive comeback release, the band hasn't released a full-blown LP since 2016. Breaking its silence with a re-release of "Wake Up Dead" from its debut record, the band followed it up with a brand new full-length LP, dropping a slew of thrash metal hits including "Soldier On!", "Night Stalkers", "We'll Be Back", and its very own title track "The Sick, the Dying... and the Dead!".
In an interview with Loudwire, Mustaine shares that the album is "one of many to come". This is definitely some rockin' good news as its brand of thrash metal continues to soar and crush the world. "This is the appetizer and we're going to have a few more records that are more stomping Megadeth music."
With a history of ups and downs, lineup shifts, substance, and sobering up, Megadeath conquered and shared its best bets on its fourth studio record "Rust in Peace". The album carries its iconic single "Holy Wars... The Punishment Due" which became a groundbreaking point for the band's continuous journey of crushing the world. "I am absolutely loving life, singing the best I've ever sang. I'm playing the best I've ever played," Mustaine shared in an interview with Rolling Stone. Fighting some health problems recently, he describes his current feeling as "feisty as ever".
He's definitely a fighter! The band's longevity comes as a surprise as it still tops the charts even with a couple of years in between LP releases, its music definitely speaks for itself. Mustaine shares the importance of understanding the world, language, and "common decency". Behind its album title "The Sick, the Dying … and the Dead", Mustaine shares with Rolling Stone that it draws inspiration from the children's rhyme "Ring Around the Rosie".
"I wanted to add that [rhyme] into a song, like we did in 'Go to Hell,' where I said, 'Now I lay me down to sleep,' which oddly appeared on a Metallica song at the same time," he shared, with a morbid reflection as to how the rhyme's connection to a plague. "I thought, 'Wow, the irony of something as innocuous as 'Ring Around the Rosie' being something so dark was interesting,' and it made me curious about the Plague,"
Inspiration and reflection definitely go a long way. For Megadeath, it drives countless artistic tales driven by their thrash metal attitudes that definitely rock its listeners out. As they continue to crush world at their newest trek, don't miss out by booking your tickets now!