Premier Theater At Foxwoods | Mashantucket, Connecticut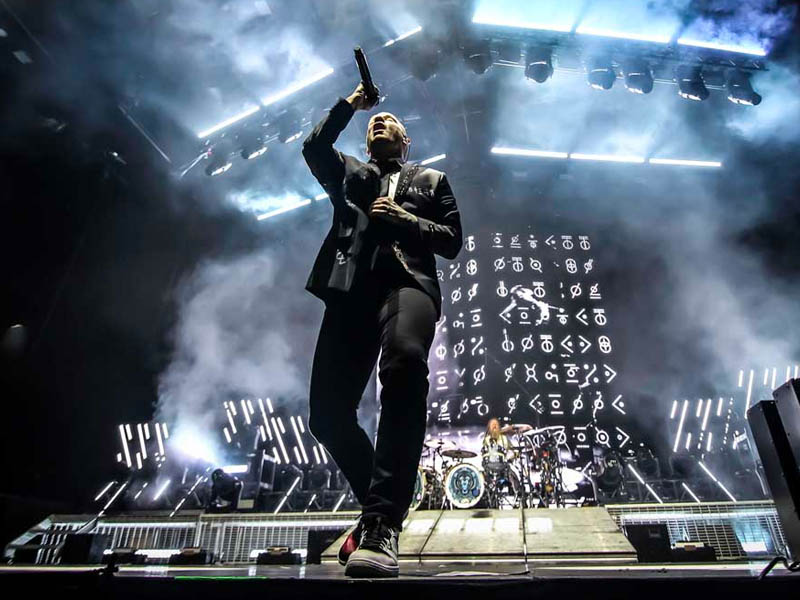 This 2023, the notorious Mainstream Rock chart-toppers Shinedown took over the nation with their Revolutions Live Tour and made fans bang their heads to iconic staples from their career-spanning catalog! If you think that the Florida natives are done for the year, then you better guess again! Shinedown is doing one last hurrah this December, and it is your last chance to see the platinum-selling band rock out on stage this year! Mashantucket, Connecticut, is the envy of all rock fans this winter because the Shinedown is doing a phenomenal year-ending gig in town! Yes, you've read that right. Shinedown is doing one last show at the iconic MGM Grand Theater at Foxwoods! On Friday, 29th December 2023, fans can look forward to the band's high-energy setlist packed with phenomenal hits, such as "Monsters," "Planet Zero," "Sound of Madness," and many more as they light up the stage on Friday 29th December 2023! If you're looking for a headbang-worthy year-ending extravaganza, you better hurry and score tickets now!
If you're looking for a great night out before your New Year's Eve festivities, you should seriously check out Shinedown's last hurrah at the MGM Grand Theater at Foxwoods. The show is slated to be an exhilarating one, considering that it's the band's last gig for the year. Shinedown has conquered the better part of 2023 with numerous performances for the Revolutions Live Tour. They traversed the nation with numerous renowned rock bands. Playing a total of 50 shows, the tour was deemed a phenomenal success. The Revolutions Live Tour will be talked about by fans for years to come. It will be a while before a band of this caliber delivers an amazing hard rock tour such as this!
Last year, Shinedown dropped their groundbreaking effort, Planet Zero. The highly-acclaimed seventh album spawned two number 1 Mainstream Rock singles, "Planet Zero" and "Daylight." Meanwhile, the album topped three Billboard charts, including Top Rock and Top Alternative Albums charts. For this year's setlist, Planet Zero took centerstage. Shinedown definitely put their best in the spotlight with tracks like "A Symptom of Being Human," "Planet Zero," "Daylight," "Dead Don't Die," and many more.
Besides songs from their latest effort, Shinedown also performed staples from Leave a Whisper's "45," The Sound of Madness' title track and "Second Chance,", Amaryllis' title track, "Enemies," and "Save Me," Threat to Survival's "State of My Head," and Attention Attention's "Devil" and "Monsters." The setlist also included some remarkable covers from Jimmy Eat World and Lynyrd Skynyrd.
If you're looking to celebrate the end of year 2023 with a bang, you should definitely check out Shinedown as they conquer the MGM Grand Theater at Foxwoods. It's an excellent place to celebrate the New Year festivities thanks to its great facilities, top customer service, and state-of-the-art lights and sound system. Located at the Foxwoods Resort Casino, the venue has great accommodations, a bustling casino, and plenty of fantastic dining options. Most importantly, attendees can look forward to great accessibility and ample parking. You'll have a grand time when you come to the MGM Grand Theater to see your favorite rock band!
Hurry and score tickets now and catch Shinedown light up the MGM Grand Theater at Foxwoods on Friday, 29th December 2023!