Premier Theater At Foxwoods | Mashantucket, Connecticut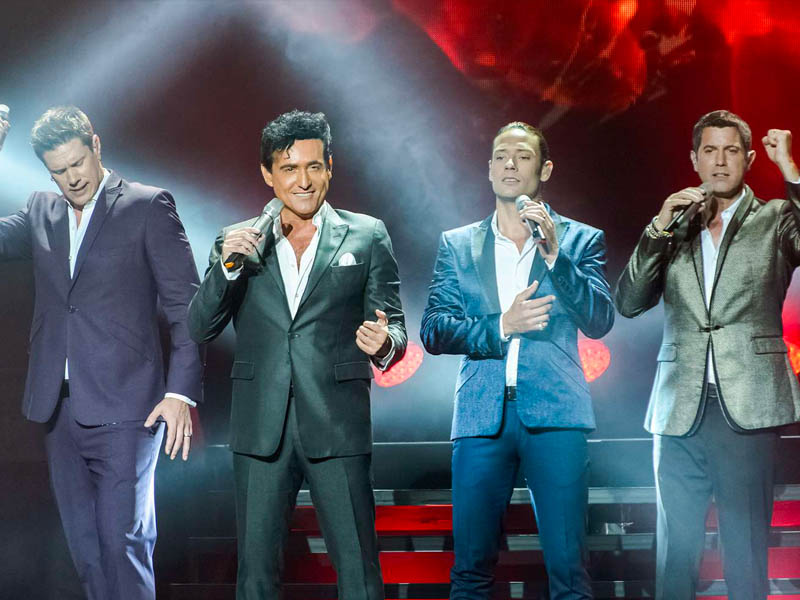 Winter is near, and it comes with a great reason to celebrate exemplary tunes, yuletide staples, and lifting your holiday spirits! And who better to elevate your holiday feels than the illustrious classical crossover sensation, Il Divo? You won't find any other group that comes close, and we're here to tell you why! The esteemed quartet comprising multinational talents David Miller, Sebastian Izambard, Urs Buhler, and Steven LaBrie are set to conquer the season with A New Day Holiday Tour! And if you're keen on experiencing Christmas hits performed by a world-class vocal group, this is the place to be this winter! On Friday, 8th December 2023, the group is set to stop by the Foxwood Resort Casino in Mashantucket, Connecticut! Get ready for multiple Yuletide hits and numerous contemporary staples as Il Divo performs their high-energy setlist at the iconic MGM Grand Theater! We bet you'll love these vocalists' take on classical, pop, folk, opera, and more! Hurry and secure tickets to see Il Divo at the MGM Grand Theater!
Il Divo took over the world with their highly acclaimed New Day Tour. Now that the year is coming to a close and the holiday season is about to take over, the classical crossover quartet will turn their signature show into a fun-filled, yuletide-driven spectacle! Imagine these operatic pop purveyors belting out your favorite Christmas hits on stage. Yes, it's the perfect soul-serenading, Christmas spirit-lifting event, and it's coming to Mashantucket! The quartet will demonstrate their incredible vocal powers. Il Divo has been praised for infusing classical and operatic vocals with contemporary music - something the group has described as "popera." Created in 20014, Il Divo is a modern take on the legacy of world-class performers Luciano Pavarotti, Placido Domingo, and Jose Carreras.
Il Divod dropped their self-titled effort in 2004 and saw immediate access in the U.K., Ireland, and Norway. The album, which spawned the single "Regresa a Mi," started gaining traction in the U.S. in December of the same year. They held their first concert in New York, which they recorded and released as their first live concert DVD, Live at Gotham Hall. Over the years, Il Divo, despite having a very classic look, started bringing in more modern music listeners. Their performance at the 2006 FIFA World Cup led to more viewers being impressed with their vocal prowess. Soon, Il Divo became a household name in classical, opera, pop, and folk music.
The group had recorded several studio albums and a number of themed efforts, such as The Christmas Collection and For Once In My Life: A Celebration of Motown. In 2018, Il Divo released their latest studio album, Timeless, which charted in several countries, including the U.K. Over the years, the group had consistently topped the U.K. chart with earlier releases. They also sold over 30 million albums worldwide, making them one of the best-selling classical crossover artists at the moment.
This holiday season, you have the opportunity to catch Il Divo delivering their yuletide favorites for A New Day Holiday Tour. Lucky for fans in Connecticut, the group has chosen the premiere entertainment venue, MGM Grand Theater. The state-of-the-art concert hall is located in the Foxwood Resorts Casino, where attendees can easily access the venue and enjoy its ample parking. Hurry and secure tickets now to see Il Divo light up MGM Grand Theater on Friday, 8th December 2023! Tickets are now available through the Get Tickets link!